The Prospects page will have the information of all saved leads. The saved leads are called as prospects. The prospects can be grouped into lists which is nothing but a folder. For example, Marketing, Sales, or Canadian CFOs.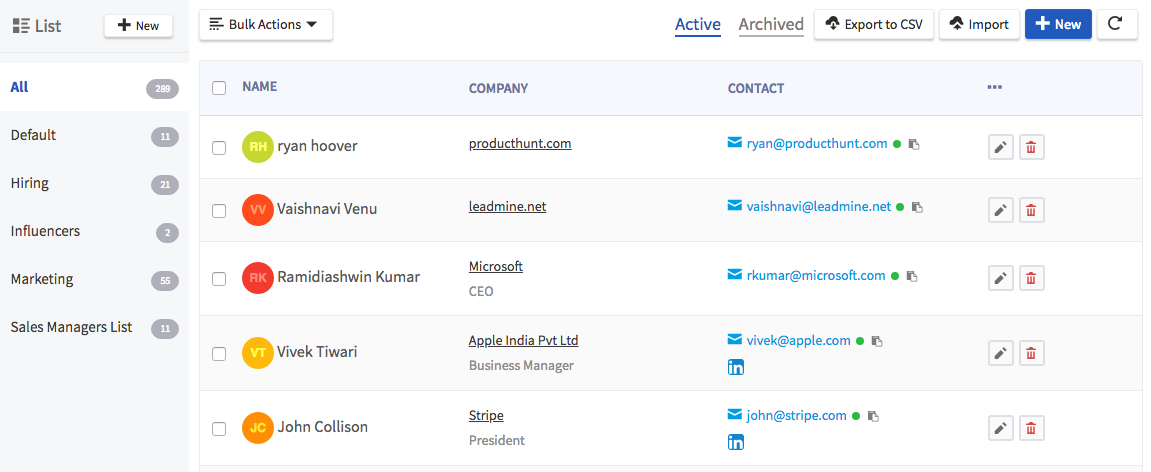 In prospects, you can do following actions:
Edit or delete a prospect by clicking on the Edit and Delete symbol present next to each prospect respectively.
Find email address for existing leads through Import feature. You can read more about it here.
Export to CSV button will allow you to download the prospects as a CSV file. Once the action is completed, the file will be saved in the local Downloads folder.
Refresh button on the top corner of the page will allow you to refresh the page after performing any action.
Create new List

You can save the leads into separate lists to manage them better. You can create new list by:
Click on the + New button on the top left of the page.
Enter the name of the new list.
Click on the Save button.
Bulk Actions

You can select multiple prospects at once and perform bulk action. You can perform following bulk actions:
Move Prospects to List: Select a set of prospects you want to move, select Move to List from Bulk Actions select box and then select the list name and click Ok
Set Prospect Status: Select a set of prospects you want to archive, select Set Status from Bulk Actions select box and set the status as "Archive".
Delete Prospect: Select a set of prospects you want to delete, select Delete from Bulk Actions select box.
No valid Email Found will be displayed if the contact information is not available.